Doogee has a long-standing reputation for creating rugged smartphones that are designed to handle even the toughest conditions. The brand's S89 and S89 Pro even made it to our list of smartphones with insane battery life, but they have often been criticized for lacking the advanced features found in flagship devices. However, all of that changes with the introduction of the Doogee V30. This latest smartphone from Doogee packs a lot of premium features, including the powerful MediaTek Dimensity 900 SoC, 5G connectivity, a stunning 108MP main camera, and much more.
I've been using the Doogee V30 for the past few weeks, and I can confidently say that this device offers unbeatable value for its $529 price tag whether you're a professional who needs a smartphone that can handle demanding tasks or someone who needs a rugged device for outdoor activities, the Doogee V30 ticks all the boxes. In this review, I will go over why the Doogee V30 stands out and why I believe it's one of the best options in its category. So, without further ado, let's dive right in!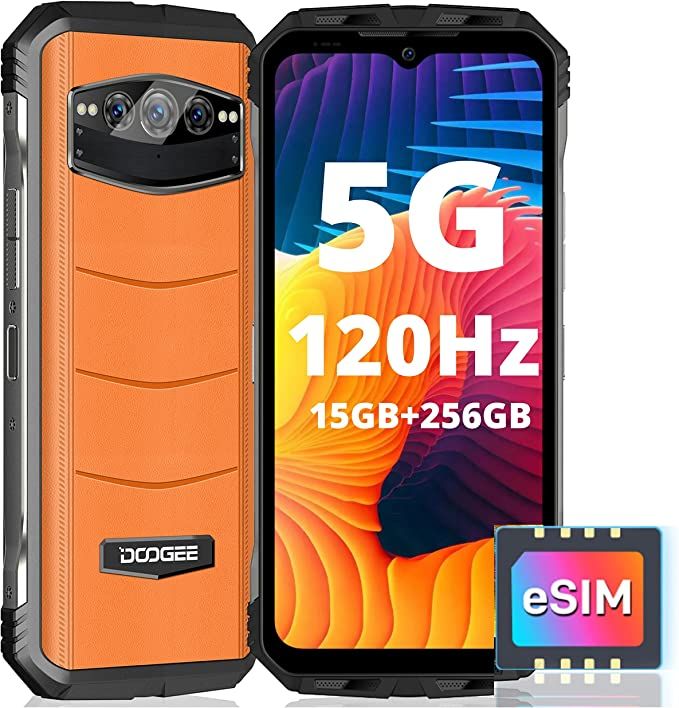 The Doogee V30 is a rugged smartphone that offers unbeatable value for its $529 price tag. The device boasts a powerful MediaTek Dimensity 900 SoC, 5G connectivity, a stunning 108MP main camera, and much more. The design of the V30 may not be suitable for everyday carry, but it's perfect for those who need a durable and rugged device for outdoor activities. The 6.58-inch FHD+ IPS LCD display is smooth and silky with its 120Hz refresh rate, while the custom Android 12-based software is well-optimized and free from excessive bloatware. Overall, the Doogee V30 is an excellent option for those who want a high-quality rugged smartphone that can handle demanding tasks and outdoor activities.
Specifications
Brand: Doogee
SoC: MediaTek Dimensity 900
Display: 6.58-inch FHD+ 120Hz
RAM: 8GB + 7GB (Using software and idle ROM)
Storage: 256GB (UFS 3.1)
Battery: 10,800 mAh
Ports: USB-C
Operating System: Android 12
Front camera: 32MP, f/2.0
Rear cameras: 108MP (Primary) + 20MP (Night Vision) + 16MP (Macro)
Connectivity: 5G, Wi-Fi 6
Dimensions: 178.4 x 83.1 x 18.3 mm
Colors: Orange, Black
Display type: IPS LCD
Weight: 376g
Charging: 66W
IP Rating: IP68 / IP69K
Price: $529
Micro SD card support: Yes
Security: Face Unlock, Side-mounted Fingerprint Sensor, PIN, Pattern, Password
Pros
Great feel in hand with leather back and wood-grain effect sides
Advanced connectivity features like eSIM, Wi-Fi 6, and 5G
Gorilla Glass 5 + IP69K rating
Customizeable button
10,800 mAh battery, 66W fast charging
Cons
Battery optimization could have been better
Buttons are not sufficiently tactile
Buy This Product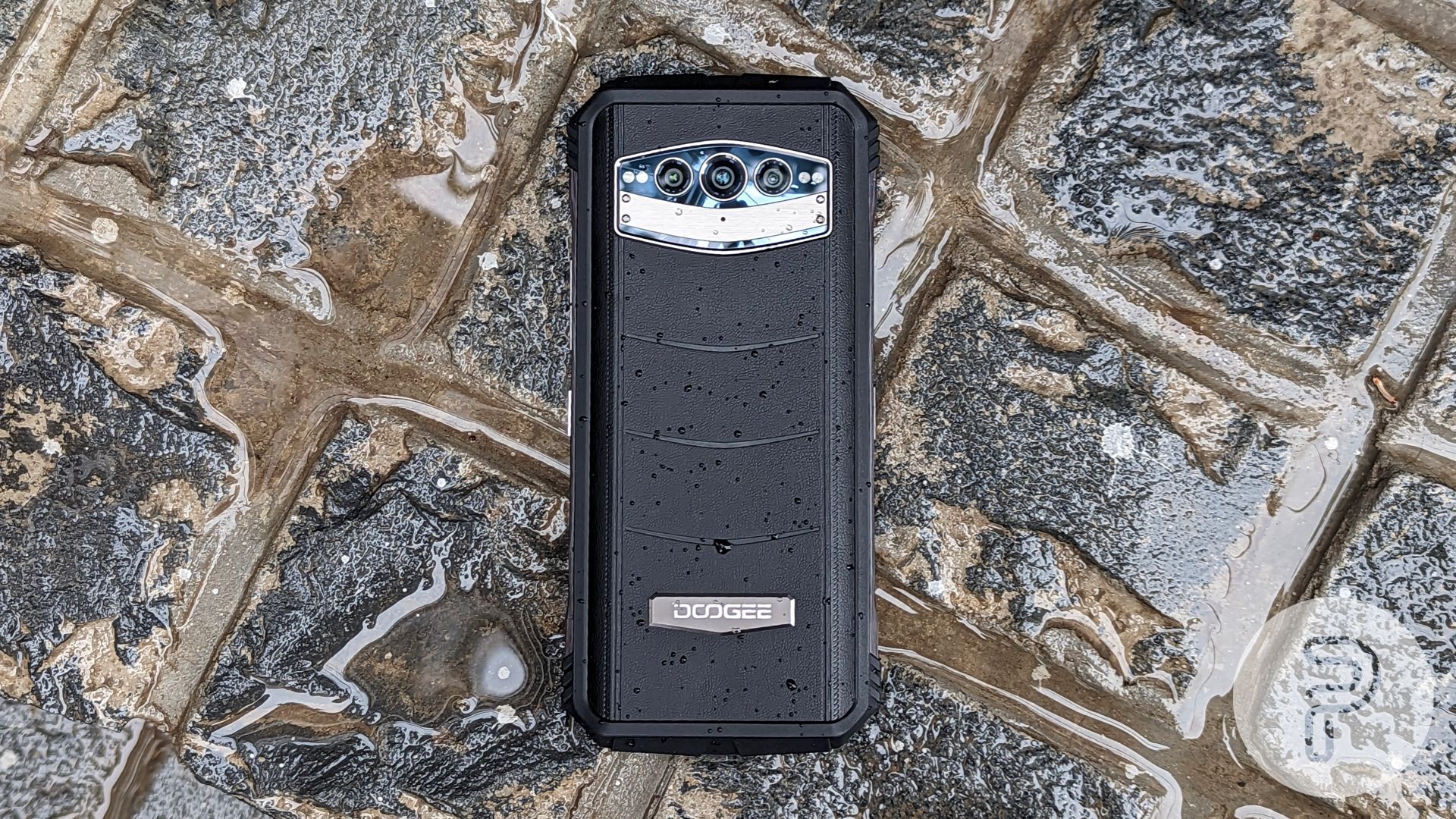 Doogee V30 Rugged Smartphone
Design
Starting off with the design, you'll notice that the Doogee V30 looks like every other rugged smartphone out there — yes, it's pretty chunky. The smartphone weighs over 350 grams and has a thickness of 18.3 mm at its widest point. This is by no means a lightweight and everyday carry smartphone, but for its intended use and audience, the thickness and weight are a necessary tradeoff for added durability and protection.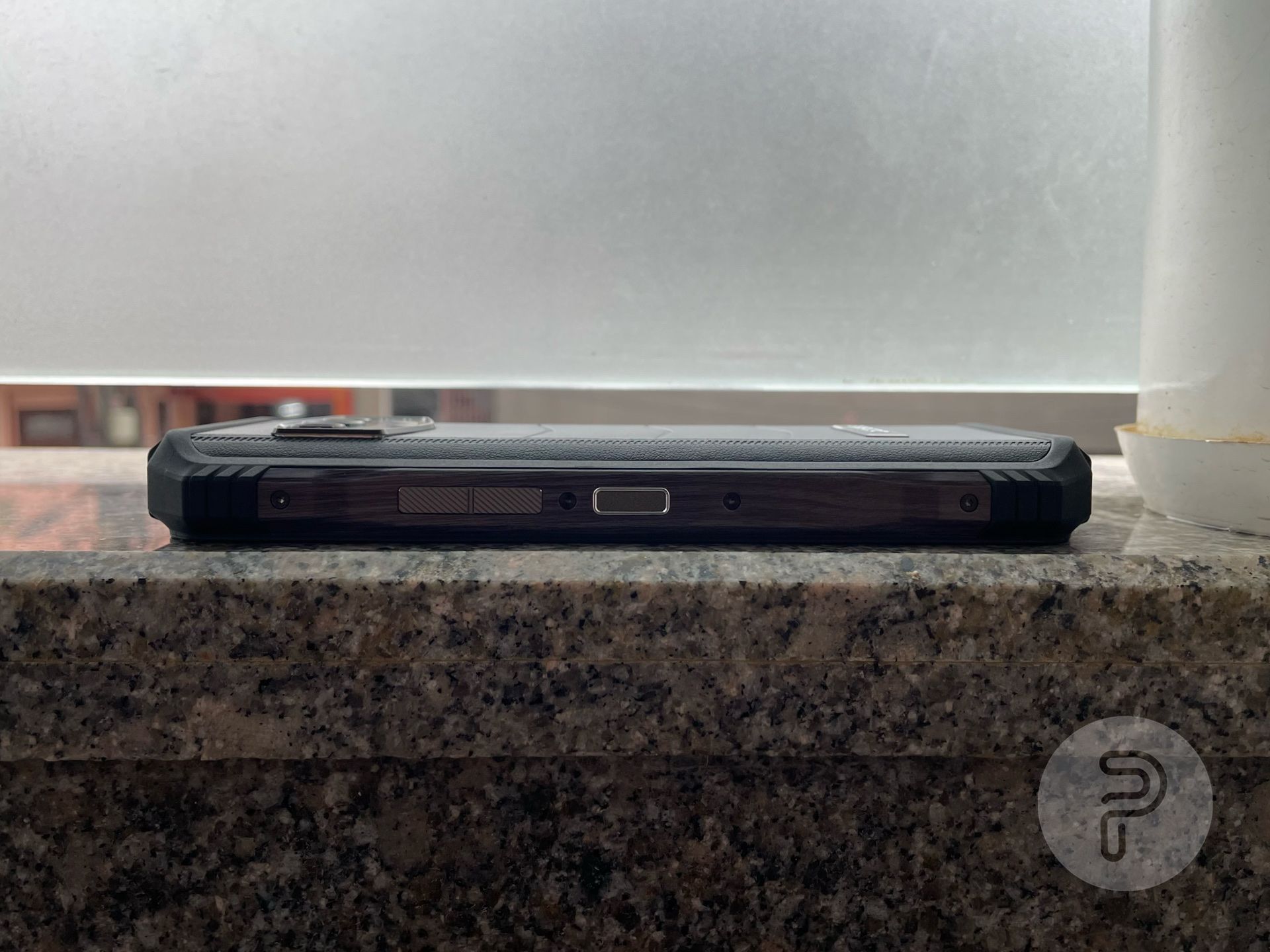 The device is available in two color options: black and orange. We tested the black variant of the device and found that the vegan leather and wood-grain effect sides give it a very high-quality feel and distinctive look. Overall, it's safe to say that it looks more elegant than the average rugged phone.
Going around the device, you'll find that the device is equipped with a USB-C port at the bottom and the power button (which also serves as a fingerprint scanner) and volume rockers on the right. The left side features a SIM card tray and a customizable button that can be programmed to launch apps, activate the voice assistant, turn on the flashlight, and more.
Display
Shifting our focus to the front, the device features a 6.58-inch FHD+ IPS LCD display with Corning Gorilla Glass 5 protection. This display supports up to 120Hz refresh rate, so you can be sure that the content displayed will be smooth and silky. In the day and age when all smartphones feature a punch-hole camera or Dynamic Island, the Doogee V30 comes with a waterdrop selfie camera. There is also a LED notification light tucked away in the top bezel along with two front-facing speakers (complemented by two more at the bottom), providing a well-rounded multimedia experience. The phone also comes with a pre-installed screen protector, which is a nice touch.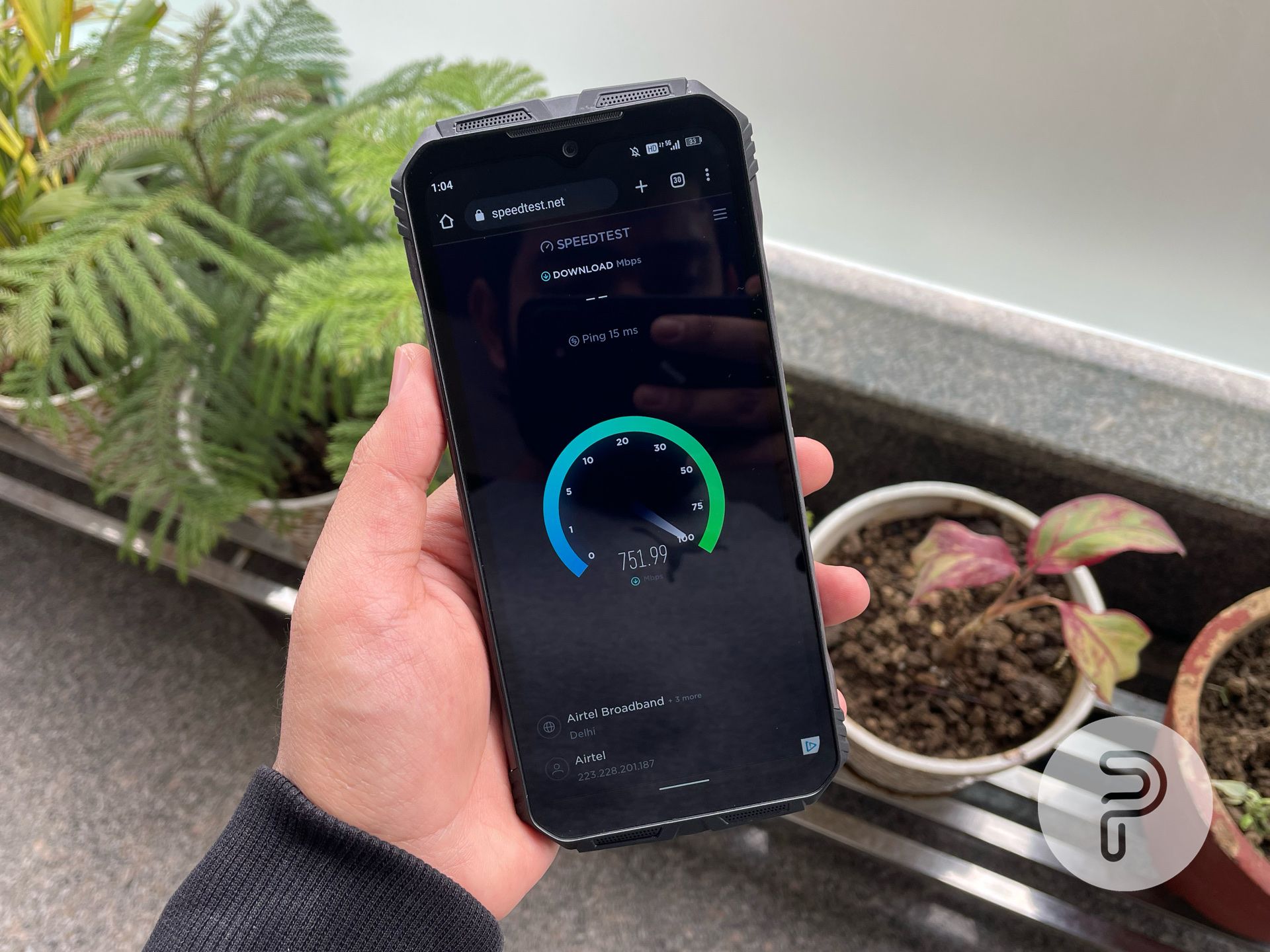 The display on the Doogee V30 is what one might expect from an IPS LCD screen. The visuals are sharp and clear, but the viewing angles may leave something to be desired. That being said, the 120Hz refresh rate is a standout feature that delivers a smooth and fluid experience with no noticeable flicker. The colors are rich and vibrant, which is not typically seen in rugged smartphones. However, there is a single missing feature that some users may find convenient — the ability to wake the display with a double tap.
Features and Performance
The Doogee V30 comes pre-installed with the company's custom Android 12-based software, which offers a slightly modified version of stock Android with a familiar Chinese ROM-inspired notification bar and quick setting toggles. While there are some pre-installed apps from Doogee and Google, the software is well-optimized and free from excessive bloatware.
The Doogee V30 is powered by the MediaTek Dimensity 900 SoC, which comes equipped with an integrated 5G modem. This allows for fast 5G speeds right out of the box. In terms of memory, the V30 boasts 8GB of RAM, which can be boosted to a total of 15GB using the device's memory fusion technology. This technology uses the idle ROM of the smartphone to increase the device's overall RAM capacity. The device also offers a generous 256GB of on-board storage (UFS 3.1) that can be expanded up to 1TB via the TF/SIM tray.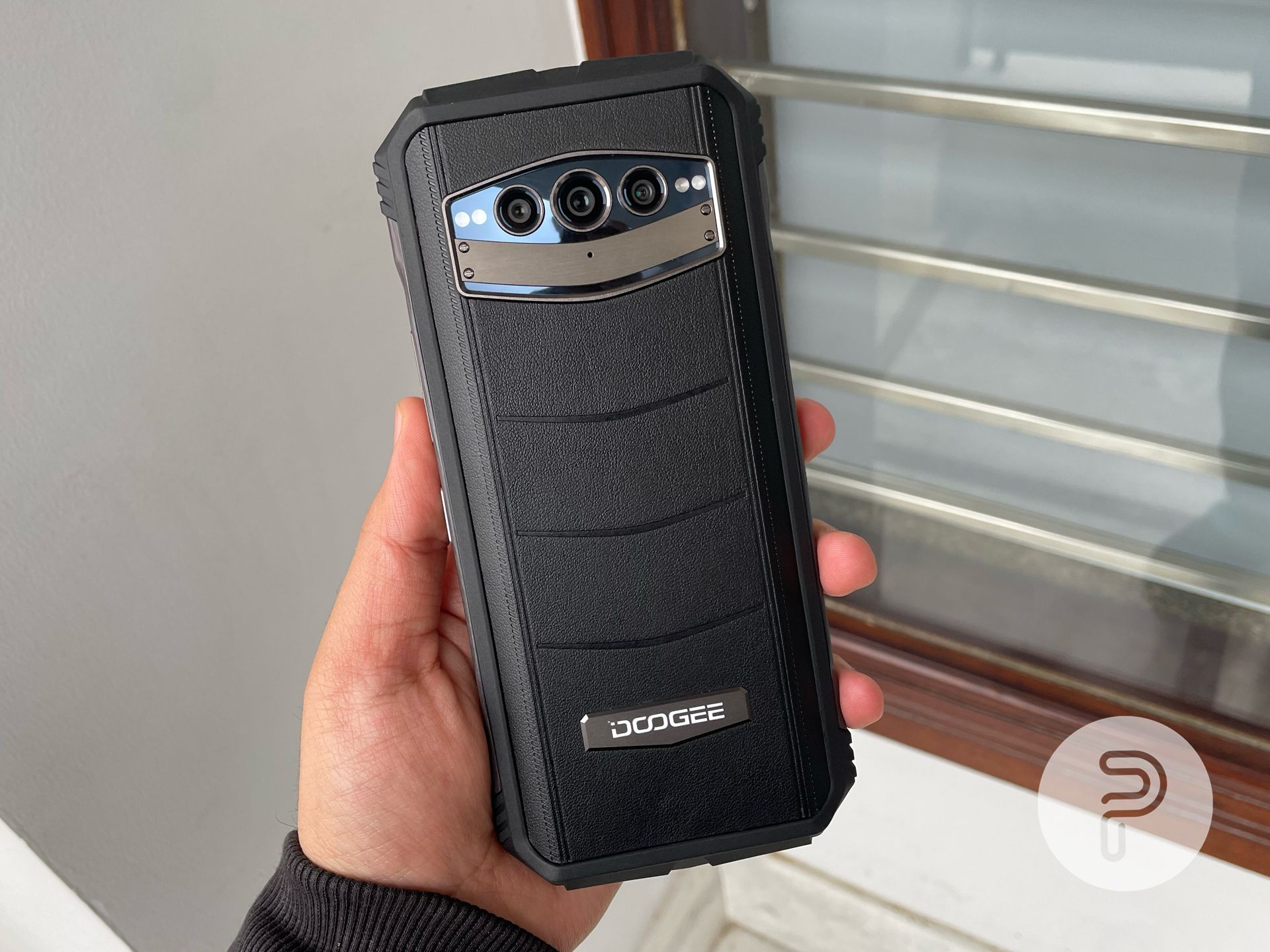 One of the standout features of this smartphone is eSIM connectivity. Like the modern flagship smartphones, such as the iPhone 14 and Pixel 7 series, you can configure the SIM of your choice on the Doogee V30 without having to physically insert it into the device. While this may seem like a 'forced' feature, we found the process of configuring an eSIM on the V30 to be incredibly fast and effortless. Our experience was smooth, as Doogee provided a sample eSIM that we were able to set up in just a matter of minutes.
SIM vs eSIM vs iSIM: What is it, and what's the difference?
Another standout feature of the Doogee V30 is the smartphone's IP69K rating. In layman's terms, it means that the smartphone is not only water and dust resistant, but it can also withstand high-pressure and high-temperature water jets. This makes the V30 ideal for rough and demanding environments and protects the device against water damage.
So, how does the phone perform in real life? In daily use, the Doogee V30 performs quite well, thanks to its powerful octa-core Dimensity 900 processor and ample memory. The phone can effortlessly handle everyday tasks, such as sending emails, scrolling social media, sending messages on IM apps, editing documents, and more. Whenever there was a sense of sluggishness, the 120Hz refresh rate covered it up.
Camera
Taking a look at the back, the Doogee V30 is equipped with a triple-camera setup on the back consisting of a 108MP primary sensor, a 16MP ultra-wide lens, and a 20MP Sony night vision sensor. The front-facing camera is a 32MP selfie camera housed in a waterdrop notch.
In terms of image quality, the V30's cameras perform well and produce good results, especially considering its price point. The camera captures reasonably good images in daylight, but in low-light conditions — like every other mid-tier Android smartphone — it struggles.
Normally, the camera captures 24MP images (using pixel binning technology), but the company has also included a "108MP" mode in its camera app, which enhances the detail and clarity of photos. The "Night Vision" mode, on the other hand, allows users to capture photos in even the darkest environments. Take a look at the few shots I captured using the smartphone's night vision sensor (attached above).
On the whole, the camera on the Doogee V30 may not match the level of flagship smartphones from renowned brands such as Apple, Google, or Samsung, but it still offers good quality photos for everyday use, like casual social media posts and document scanning.
Battery Life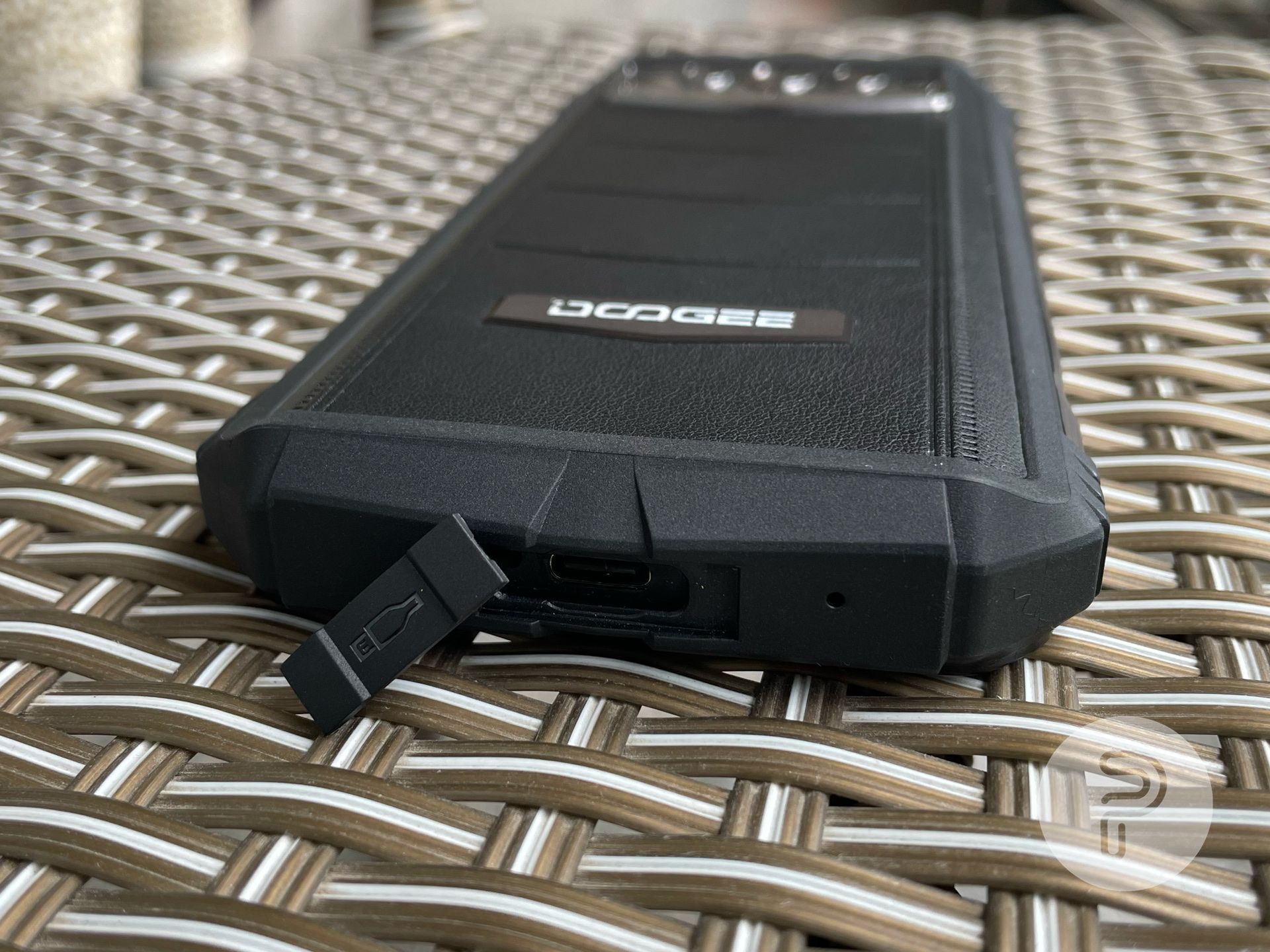 This is why we're here, right? Battery life is one of the most important considerations for smartphone users, especially those looking for a rugged smartphone, and the Doogee V30 does not disappoint in this regard. The Doogee V30 is equipped with a 10,800mAh battery that supports 66W fast USB-C charging as well as 15W wireless charging.
What is optimized battery charging and why you should keep it enabled on your devices
During our testing, the phone's battery managed to last through two full days of medium-to-heavy usage, which included hours of browsing, texting, YouTube streaming, social media scrolling, and making calls. With careful management, the battery life can even be extended to up to three days on a single charge, which is an impressive feat.
As mentioned before, the V30 is equipped with 66W fast charging support. Surprisingly, with the bundled USB-C charger in the box, this feature gets the battery from 0% to 100% in just about an hour and a half, which is pretty amazing considering the size of the battery.
While it also supports 15W wireless charging, it is not very practical as it takes a considerable amount of time to fully charge the phone. A great addition (especially considering the size of the battery) would have been the support for reverse wireless charging, but it is, unfortunately, missing here.
Conclusion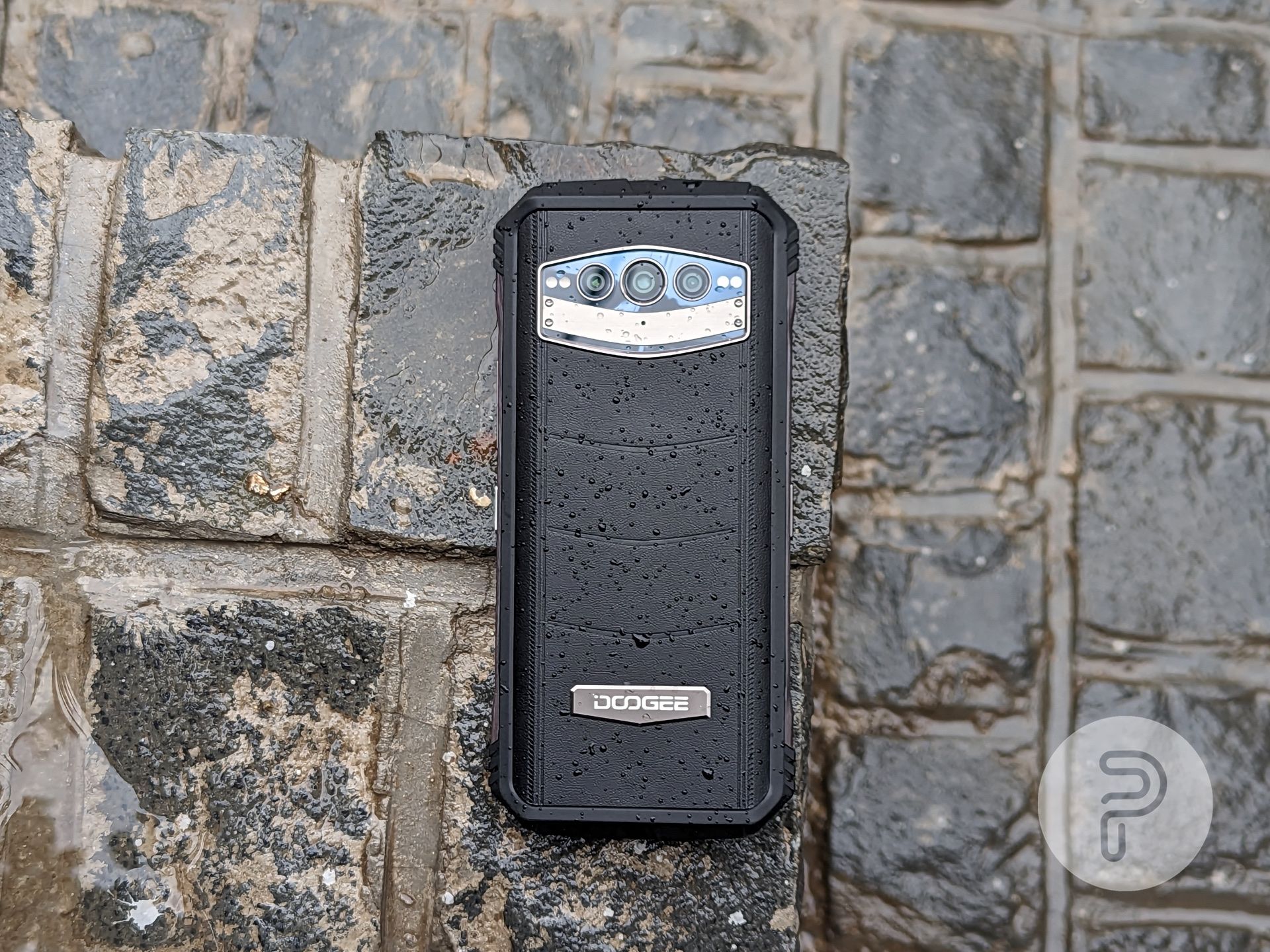 So, is the Doogee V30 worth buying? Absolutely. The device ticks all the boxes for me. From featuring newer technologies such as eSIM to 5G support — which is becoming more widespread — this phone is future-proof and ready to handle the demands of our constantly connected world.
Unlike other rugged smartphones that might skimp on specs in favor of durability, the Doogee V30 has a powerful MediaTek Dimensity 900 processor — coupled with up to 15GB RAM and fast 256GB UFS 3.1 storage — that delivers excellent performance for demanding tasks. The 120Hz screen is great too.
And if that's not enough, the Doogee V30 also offers some nice extra features like front-facing stereo speakers, a 20MP night vision camera, an IP69K rating, and more, giving you even more reasons to love this phone. If you're looking for a rugged smartphone, I highly recommend considering the Doogee V30.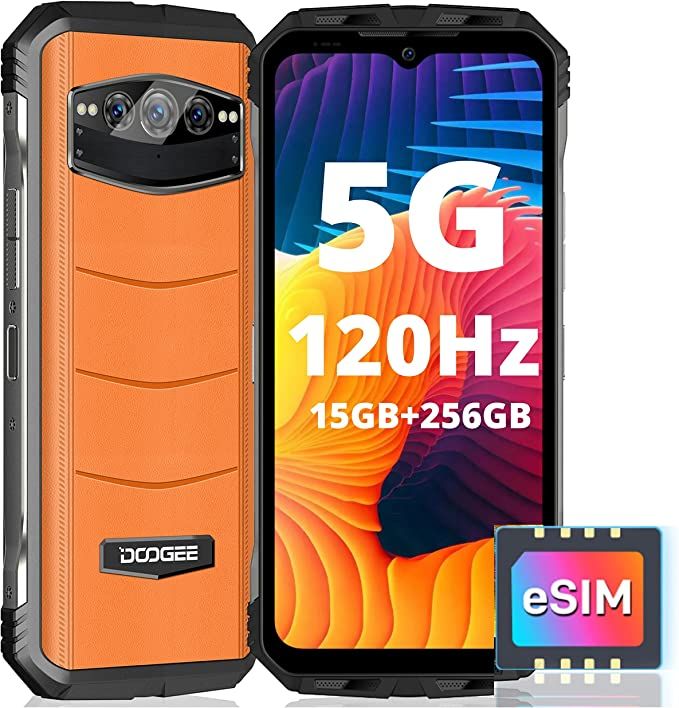 Doogee V30 Rugged Smartphone
The DOOGEE V30 is a rugged smartphone that features a 6.6-inch FHD+ screen with 120Hz refresh rate support. Powered by the powerful MediaTek Dimensity 900 processor and 15GB+256GB storage, the phone runs smoothly and supports demanding tasks. The phone is equipped with a 108MP primary camera and 66W fast charging, making it perfect for outdoor adventures.